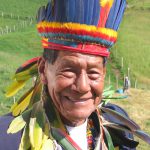 This is a very last minute addition to the festival – a very rare and privileged opportunity for us to share with Taita Querubin at the close of his short visit to London.
Taita Querubin Queta Alvarado is a most respected elder, shaman, spiritual leader and medicine man from the Cofán people of Colombia. He has been in London to share his spiritual knowledge and speak of healing ceremonies and traditional medicine. He has kindly offered to be with Native Spirit tomorrow (Saturday 22nd October) before his return to the Amazon.
There will be a short film about his village, he will give a talk, sharing with us his knowledge and messages, and sing a spiritual song that has been given by the spirits.
All donations will be given to him to be shared by his community and help the Cofán people who have established themselves as the vanguard of indigenous conservation efforts, taking on the task of caring for over a million acres of rainforest in Ecuador and large areas in adjacent Colombia.
The Cofán, one of the oldest surviving cultures in the Americas, have struggled to preserve their language and way of life. The past four decades have presented them with the biggest challenges to their solidarity, as they have fought to protect their ancestral lands from the incursion of oil companies and to defend their status as rightful landowners.
Please come and donate what you can – we are suggesting a minimum of £5, but anything above that will be much appreciated.
Saturday 22nd October
Time: 3pm.
Room: Lucas Lecture Theatre (G2)
Venue: School of Oriental and African Studies, University of London
Thornhaugh Street
Russell Square
London
WC1H 0XG