Support Us
Donate
Native Spirit is a not-for-profit charitable organisation run by a handful of dedicated volunteers working to promote Indigenous filmmakers and artists. Help keep us Independent – in addition to our Native Spirit Festival 2020 GoFundMe, you can donate via Paypal or Transferwise
Name: NATIVE SPIRIT FILM Email: [email protected]
IBAN: GB96 OPBK 0892 9965 1947 99 The Cooperative Bank
Volunteer
We're always looking for enthusiastic volunteers to help Native Spirit with 2020 festival planning, research, film reviewing, website management, social media promotion, and year-round Outreach events.
This is an unique opportunity to support the only Independent UK festival dedicated to Indigenous Film, Media and Arts. We're keen to hear from people with a passion for Indigenous cinema who can commit. Send your CV to  [email protected] with 'volunteer 2020' in subject line.
Collaborations – Supporters – Venues
Artists and Organisations
INGRID PUMAYALLA (Trujillo, Peru)
Ingrid's practice approaches identity and loss as a subjects to reflect on migration as a global phenomeno. Using photography, video and performance her work focuses in the fragility of identity and memory as a consequences of displacement. 
D MOVIES.ORG
DMovies (Dirty Movies) is your platform for thought-provoking cinema; we bring to you the most innovative and audacious films from all corners of the planet.
JOSE NAVARRO
Danza de las Tijeras – Scissors Dance. Traditional indigenous dance/martial art from Peru.
TUMI
Taking its name from an Inca dagger, Tumi was founded in 1978 by Mo Fini promoting fair trade crafts and goods with Latin America.
THE NEW INTERNATIONALIST
With over 30 years of publishing under its belt, and more than 75,000 subscribers worldwide, the New Internationalist is renowned for its radical, campaigning stance on a range of world issues.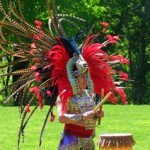 ATLACHINOLLI DANCE GROUP (Mexico/London) Atlachinolli (Burning Water) Dance Group is led by Xiquipiltzin who teaches cultural history of the people of the Americas, and changes brought about after European contact. He conducts a variety of Mexica ceremonies, shares knowledge of pre-Hispanic cuisine and brings a message of peace, cooperation and unity of all people.
MOVIMIENTOS
Movimientos is an organisation dedicated to the promotion of Latin American culture in the UK and beyond; providing a platform for Latino artists living in the UK. It also works to provide a space for the organisations that promote awareness on issues relating to the continent.
KAUSARY
Formed in 1995, in the UK, Kausary has a repertoire of traditional Andean and contemporary Latin sounds. Styles typical of the Andean highlands, coastal lowlands, Amazon basin and forest, Cuban, Latin are all played with a depth of emotion unequalled.
MANU CHAO & RADIO BEMBA
Manu Chao and his band Radio Bemba are internationally acclaimed musicians with recordings of popular Latin beats and political lyrics.
BLACKFIRE AND THE JONES BENALLY FAMILY
Traditional Navajo Indigenous music from the Dine Culture (North America) by the Jones Benally Family, and political punk rock, from the three youngest member making up the band Blackfire.
ARKOLOGY
Arkology, a London-based Rasta Farai collective of musicians, artists and singers plays English roots reggae urban dub.
KOGUI
Rhythms, dance and melodies from the Caribbean coast of Colombia – rootsy mix of African, Indigenous Indian and European flavours.
GRUPO AMBAIBO
A new approach to Andean music combining traditional and modern instruments.