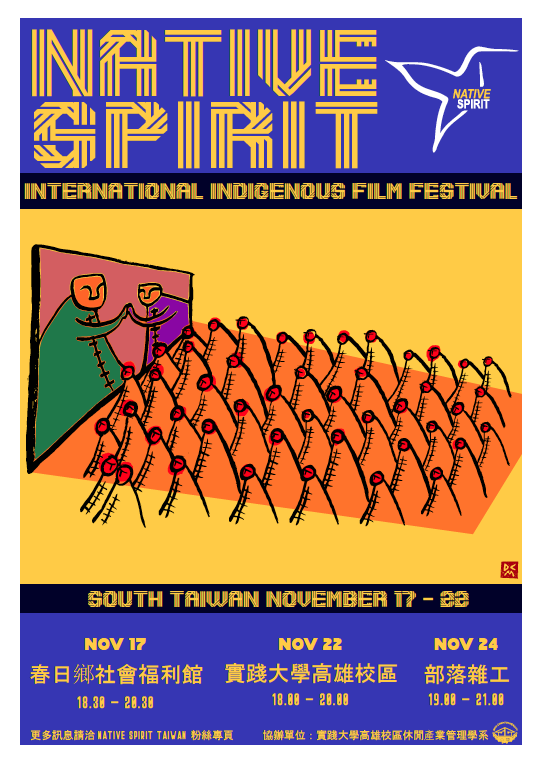 TAIWAN – Native Spirit Taiwan Festival 2021
We're pleased to announce planning is underway for NATIVE SPIRIT TAIWAN in South Taiwan, with local Indigenous Cinema and selected Shorts from International filmmakers; art exhibitions, food, music, dance. The Festival organisers are a collective of Native artists, filmmakers and educators — stay tuned for updates. 
Native Spirit Taiwan Festival 2018
https://www.facebook.com/events/集地…/native-spirit-taiwan…/242055256475207/
Native Spirit Taiwan 2018 is honored to be the first International Indigenous film festival for south Taiwan, holding workshops, film screenings and talks with Indigenous filmmakers and artists in mid-November. Working in collaboration with the UK's premiere and only Independent annual festival to showcases Indigenous Cinema, Native Spirit UK. This inaugural festival will hold several events in Kaohsiung and Pingtung from November 17-24.
Founded in 2007, Native Spirit Foundation has promoted Indigenous film and culture annually across the UK and in Spain. With the same goal in mind, Native Spirit Taiwan will engage with young Indigenous people and students.
By introducing powerful films from both seminal and emergent international Indigenous artists, the hope of the founders of Native Spirit Taiwan is to give Indigenous youth a festival of their own to share their cultures and communities with each other.
PROGRAMME 2018
November 17 春日鄉社會福利館
Qi Jia Community Centre 18.30 – 20.30
18.30: Opening
18.45: Anaiyyun: Prayer for the Whale Dir.  (8min)
18.55: Putting on a Powwow (4min)
19.00: Timbo (9min)
1910: Film: Sayun Simung's film and Artist's Talk
20.20: Death Chill – Dir. Abraham Cote (2min)
20.25: Closing Remarks
November 22 實踐大學高雄校區
Shih Chien University (Kaohsiung City Campus) 18.00-20.00
18.00: Opening
18.15: Anaiyyun: Prayer for the Whale, Dir. Kiliii Yuyan (8min)
18.30: Putting on a Powwow, Dir Keeley Gould (4min)
18.40: Timbo, Dir Peiman  (9min)
18.50: Film: Etan film and Artist's Talk
19.30: Death Chill, Dir. Abraham Cote (2min)
19.35: Closing Remarks
November 24 部落雜工
Tribal Design Studio 19.00-21.00
19.00: Opening
19.15: Anaiyyun: Prayer for the Whale (8min)
19.30: Putting on a Powwow (4min)
19.40: Timbo (9min)
19.50: Film: Etan's film and Artist's Talk
20.30: Death Chill (2min)
20.35: Closing Remarks
Documentary Filmmaking Workshop with Filmmaker, Sayun Simung
November 10 & 11: Introductory presentation, seminar, and on-location filming.
November 17 & 18: Filmmakers editing workshop, presentation of finished films.
Art Exhibition, Tjuvecekadan Traditonal Village
November 30: Opening and Artist Talk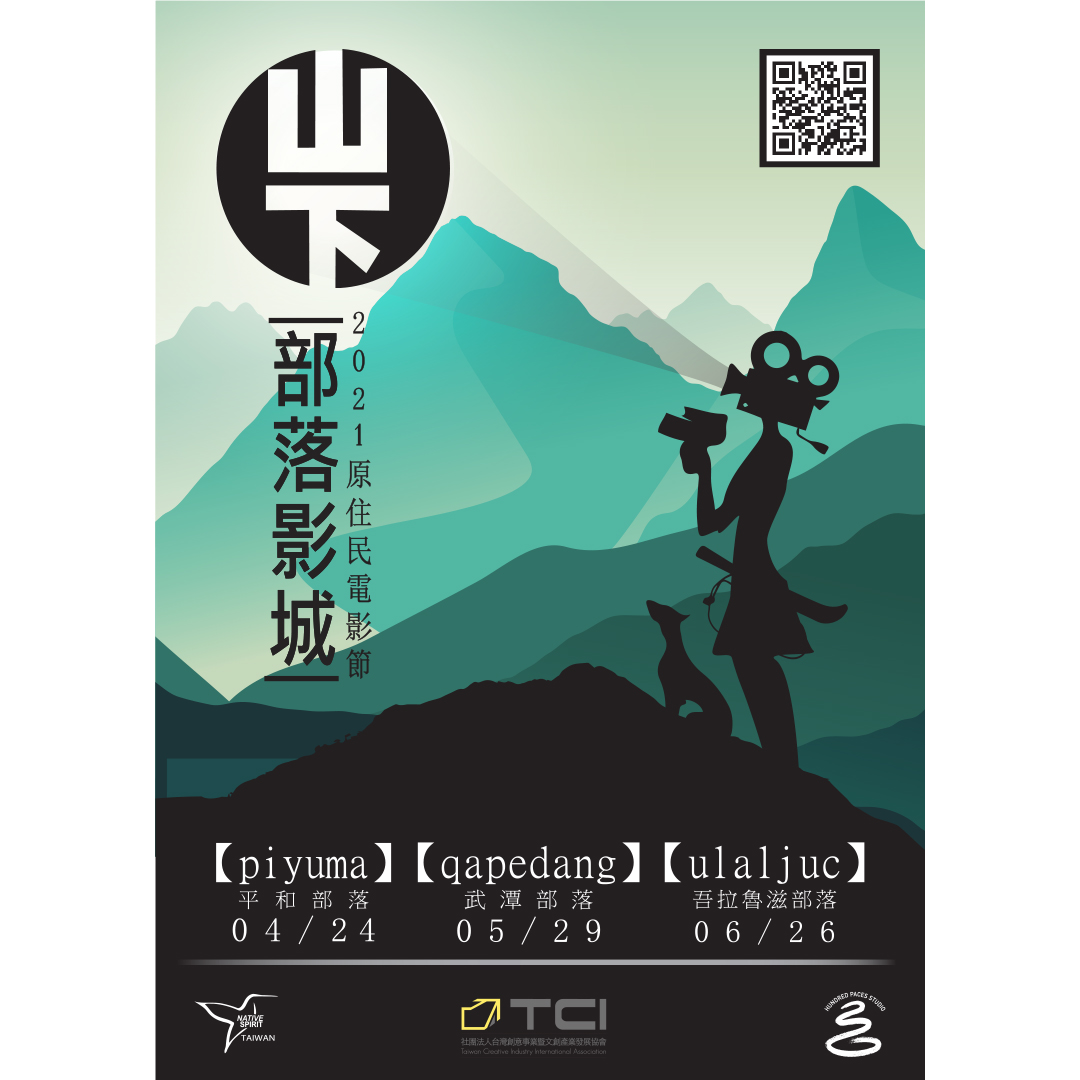 Hundred Paces Studio 百步工作室, Native Spirit Taiwan and Taiwan Creative Industry International Association 社團法人台灣創意事業暨文創產業發展協會, present International Native-produced animations, stop-motion and Shorts, subtitled in Mandarin, to share with local Indigenous Taiwan audiences and artists in and Piyuma, Qapedang and Ulaljuc.

2021 山下部落影城的系列活動期待能將國際和台灣的原住民電影帶進部落裡。本次電影節計畫將於2021春季期間,在泰武部落裡以露天的方式,每個月撥放一部以原住民為主題的電影。透過在部落裡設置一個戶外電影院的方式,我們希望除了能帶領觀眾體驗全新的視覺享受以外,更能有機會認識世界不同的原住民族。山下部落影城將會在每月的最後一個星期六舉辦約為90-120分鐘的露天電影活動。期待能獲得各界的支持,讓露天電影院能深根部落,延續台灣原住民文化在部落間與國際上的連結。