Movimientos presents
A benefit event for Native Spirit Foundation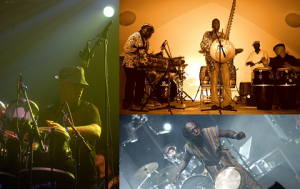 Live Acts
LOKANDES
Afro-Andean Fusion / Huayno Punk
BOUGARABOU
Neil Sparkes and Ben Badoo's Afro-Latin percussion explosion
DJs:
Cydetrack Sebilio
Cal Jader (Movimientos)

Upstairs
+ Film screening (upstairs at 8.15pm)
"We Are the Indians" + Q&A with Director/Producer
80 mins, UK/Argentina, Native Voice Films
Adultery, identity, 9/11, Hollywood and God, all against the backdrop of the rainforest. Argentina's last surviving Guarani Indians reveal some extraordinary stories in this independent three-year UK/Argentina production. 'A beautifully made film, with rare pathos and humor…a tragically poignant insight into a forgotten world' The Independent
Friday 13th August
8pm-3am
£5 before 10 / £8 after
Passing Clouds
1 Richmond Road
Dalston E8 4AA
Train: Dalston Kingsland
ALL PROCEEDS GO TOWARDS NATIVE SPIRIT FOUNDATION
Native Spirit Foundation is charitable organisation which promotes the knowledge and preservation of Indigenous Cultures and supports education in indigenous communities.
Native Spirit holds an annual Festival of Films, talks and performances celebrating indigenous culture and the protection of their rights, which takes place in London and Spain.
Celebrating the 4th year's Festival, this year we will be honor with the arrival of a group of indigenous elders representing the spirit and wisdom of these ancestral and resilient cultures.