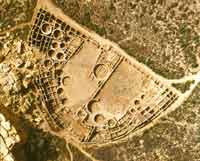 Indigenous Films every Full Moon
In collaboration with SOAS Student Union
13 MOON SCREENINGS is a regular evening of films & talks promoting the cultures of Indigenous people and will take place at SOAS every full moon.
NEXT 13 MOONS SCREENINGS
To see the PDF flyer of the event please click here
To see the event on Facebook click here
MON 26TH JULY 2010, 6.30pm
@ SOAS University – ROOM KLT 

Films 6.30pm
IN THE FOOTSTEPS OF YELLOW WOMAN
24 mins, Dir. Camille Manybeads Tso
A thirteen years old Diné (Navajo) girl learns who she is through interviewing her grandmother and learning about her ancestry.
+ BUNDLE IN GOOD STANDING
14 mins, Dir. Gabriel Whiteturkey
Mah' Wah' Tis' was a mythic figure among her Delaware Indian people. She held a high honor as keeper of her tribe's sacred ceremonial dolls.
7.30 pm
THE MISTERY OF CHACO CANYON
56 mins, Dir. Anna Sofaer
Unveiling the ancient astronomy of southwestern Pueblo Indians
The Mystery of the Chaco Canyon examines the deep enigmas presented by the massive prehistoric remains found in Chaco Canyon in northwestern New Mexico. It is the summation of 20 years of research. The film reveals that between 850 and 1150 AD, the Chacoan people designed and constructed massive ceremonial buildings in a complex celestial pattern throughout a vast desert region. Aerial and time lapse footage, computer modeling, and interviews with scholars show how the Chacoan culture designed, oriented and located its major buildings in relationship to the sun and moon.
Entry £6, Students £3
SOAS – School of Oriental and African Studies
Thornhaugh Street, Russell Square, London WC1H
UPCOMING 13 MOONS SCREENINGS:
Tuesday 24th August 2010 – 7 PM
Thursday 23rd September 2010 – 7 PM