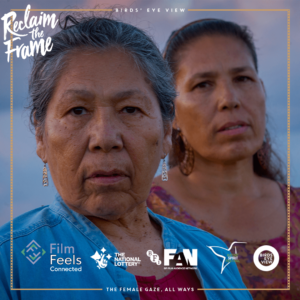 Watch selected films https://www.birds-eye-view.co.uk/watch/native-spirit-curated-viewing/ then join us for Live Panel Discussion 6pm BST Sunday 9 August 2020 — YouTube https://bit.ly/NativeSpiritRTF 
On UN's International Day of the World's Indigenous Peoples, Sunday 9th August at 6PM BST join Dr. Stephanie Pratt (Dakota Nation) with Indigenous female filmmaker panel: Jules Koostachin (Cree, Attawapiskat First Nation) director of PLACEnta and OshKiKiShiKaw, Beth Castle (descendent Pekowi band, Shawnee) co-director of WARRIOR WOMAN and Marcella Gilbert (Lakota/Dakota), one of the WARRIOR WOMEN and daughter of Madonna Thunder Hawk.
TRICK OR TREATY?
Directed by Alanis Obomsawin (Abenaki)
Documentary || Closed captions
Covering a vast swath of northern Ontario, Treaty No. 9 reflects the often contradictory interpretations of treaties between First Nations and the Crown. To the Canadian government, this treaty represents a surrendering of Indigenous sovereignty, while the descendants of the Cree signatories contend its original purpose to share the land and its resources has been misunderstood and not upheld. Enlightening as it is entertaining, Trick or Treaty? succinctly and powerfully portrays one community's attempts to enforce their treaty rights and protect their lands, while also revealing the complexities of contemporary treaty agreements. Trick or Treaty? made history as the first film by an Indigenous filmmaker to be part of the Masters' section at TIFF when it screened there in 2014.
WARRIOR WOMEN 
Directed by Christina D. King (Seminole) Elizabeth Castle (descendent Pekowi band, Shawnee)
Feature documentary 
The untold story of American Indian Movement activists who fought for civil rights in the 1970s, and the children who served as their inspiration and their cohorts. The film is anchored by one of the Red Power Movement's most outspoken Lakota leaders, Madonna Thunder Hawk, and her daughter Marcy Gilbert.
PLACEnta  
Directed by Jules Koostachin (InNiNew (Cree), Attawapiskat First Nation)
Documentary || YouTube auto captions
Jules sets out to find a place for her Cree Nation traditional placenta ceremony.
OshKiKiShiKaw 
Directed by Jules Koostachin (InNiNew (Cree), Attawapiskat First Nation)
Documentary ||  Closed captions
12 year-old identical twins Tapwewin (Truth) and Pawaken (Totem) have never cut their hair. In Cree culture, and in many Indigenous communities across Turtle Island, hair represents our sacred connection to AsKi, the Earth. Growing the hair is a manifestation of the growth of spirit.
MOBILIZE 
Directed by Caroline Monnet (Algonquian & French)
(Archive montage)
This short film, crafted entirely out of NFB archival footage by First Nations filmmaker Caroline Monnet, takes us on an exhilarating journey from the Far North to the urban south, capturing the perpetual negotiation between the traditional and the modern by a people moving ever forward.
IKWÉ
Directed by Caroline Monnet (Algonquian & French)
(French & Cree, English subtitles) Experimental
Ikwé. The word means "woman" in the Algonquin language, and the story is a mythological narrative of how knowledge is transferred from one generation to another. "The whispers of the moon tell me the ways," the film says, and the imagery in the film is gorgeous, particularly a full-framed close-up of a woman's face that has been painted red; the beauty of her physiognomy reads as a seductive and mysterious topography.
An experimental film that weaves the intimate thoughts of one woman (Ikwé) with the teachings of her grandmother, the Moon, creating a surreal narrative experience that communicates the power of thought and personal reflection.
360 DEGREES
Directed by Caroline Monnet (Algonquian & French)
Documentary  (French / EN subs)
This short film introduces us to Sébastien Aubin, a French-speaking member of Manitoba's Opaskwayak Cree Nation. He works as a graphic artist for a living, but he's embarked on a personal spiritual and identity quest on the side. Attempting to transcend the material world, he's apprenticing in traditional Indigenous medicine with healer Mark Thompson. The relationship between the two figures marks the contrast between generations; between modernity and tradition. It makes the 360-degree turn from the values of the past to those of today strikingly apparent.
Sharing Mela'hma (Sharing Medicine)
Directed by Crystal Dawn Morris (Shuswap, Splatsin Nation)
Documentary || English subtitles
A Splatsin woman, Crystal Morris, seeks out to find traditional medicine to harvest and teach the next generation, including her daughter, Victoria.
WALKING IS MEDICINE 
Directed by Alanis Obomsawin (Abenaki)
2017 Documentary ||  Closed captions
Walking is Medicine is the story of the Nishiyuu walkers, six young Cree men who decided to trek 1600km from Whapmagoostui, Quebec, to Ottawa, in the spirit of their ancestors, whose traditions were to travel long distances in the winter because the rivers and lakes are frozen. This was an effort to meet with so many different nations from across the country and to be part of a new beginning.