THE FILM FESTIVAL OF INDIGENOUS PEOPLES

LONDON, 12TH to 22ND OCTOBER 2010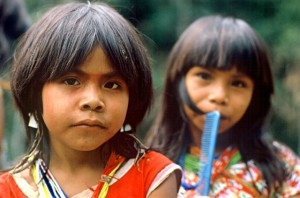 We are pleased to announce the 4th Native Spirit Film Festival from 12th to 22nd October 2010 in London. 

Over the past three years, the Festival has provided a space of encounters for knowledge and wisdom as well as for the preservation of ancestral values. 

Filmmakers, artists in general and volunteers from around the world, have contributed and helped to present through images, music and words another outlook, another dimension.  Indigenous voices speaking from every corner of Mother Earth partake on a common journey towards bringing understanding through a festival of lives.

Spaces often seem to be defined as places to be occupied or populated and so the 'discovery' of potential new areas of interest may raise the enquiry of what-is-in-for-me. But Native Spirit, as a space, transcends the regions

of egocentrism and reaches the comprehension that we as a whole inhabit the same earth and  therefore have similar rooted memories.  Within this space and through the ancient voices, a unified vision is shared to recover our memory.  We learn that poetry is science and that knowledge with a heart does not need of barbed-wire divisions to define or even re-define our epistemology.

The Native Spirit Festival is part of the Native Spirit Foundation, established in 2005 by Mapuche artist Freddy Trequil, a long standing prominent member of the indigenous Mapuche community in Chile. The work of many artists, volunteers and the contribution from the audiences is making it possible to shelter the transmission of oral wisdom from the elders to the youngsters. NSF works within the concept of La Nueva Escuela (The New School), a proposal for autonomous education within indigenous communities based on an indigenous understanding of life. The scheme is taking place in communities and will extend to affected areas where an imposition of progress has denied their vision and development.

The 4th Native Spirit Festival will bring this year the strength of the elders, the joy of the children and the poetics of their cultures.  We as human beings are embodied in this earth and words with a heart resonate in us all.

All proceedings made at the festival will go towards educational resources for schools in indigenous communities. 
Venues details and Ticket prices:
Amnesty International Human Rights Action Centre
17-25 New Inn Yard, London, EC2A 3EA
Day Tickets: £10/ £8 concessions 
(Day ticket includes entry to all films/performances/talks on the day)
SOAS – School of Oriental and African Studies, University of London
Thornhaugh Street, Russell Square, London WC1H 
Tel 020 7898 4995
Free, Donations
Birbeck College
Malet Street
London WC1E 7HX, United Kingdom
Tel 020 7631 6000
Free, Donations
Festival Pass: £35 
All proceeds made at the festival will go towards educational resources for schools in indigenous communities. 
Please be advised that venues have limited capacity. 
Tickets and festival pass will be available on the door
                  

Native Spirit Festival 2010 is supported by